Establishment
What inspires a person to grow wine, if not one's passion? Wine making, initially a hobby, soon turned into a full time occupation for me. In addition to my passion for wine, I also continuously work to master and optimise complex production techniques involved in wine making, which enable me to offer my customers a product of consistently high quality.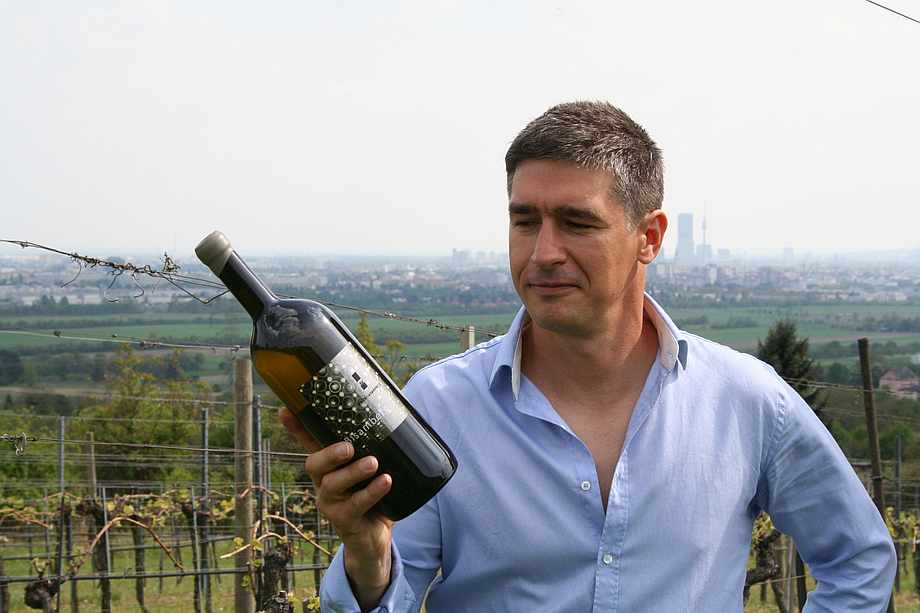 Philosophy
If we critically analyse local and global developments in agriculture, one can only come to the conclusion that conventional farming, in which resources are constantly destroyed, cannot be a long-term solution.
The goal of a truly sustainable production must be a closed cycle, in which the biosystem is conserved as far as possible and the environment is not successively enriched with poisonous chemicals. This awareness creates sufficient motivation to convert to organic farming, even though it is certainly unfavorable from a purely economic point of view, due to the considerably greater effort required in areas such as plant protection and greenery cultivation.
One should be able to discover the vitality of a thriving vineyard in the wine. As a result, my aim is to create wines that I would like to drink myself, products that do not only taste good, but are also high-quality products for the health conscious.

Vineyards
Wine is "liquidized soil", an elixir from the earth. The principal determinant of the quality of wine is the vineyard. As a result, I take great care to maintain the microbial fauna of the soil. In fact, all my wines have been certified as
organic produce
since the end of 2016. I practice erosion protection and avoid the use of insecticides, herbicides and oil based fungicides. Targeted cultivation of greenery also helps avoid mineral fertilizers. In order to produce high-quality grapes with an intense flavour, careful tending to the vine is required in the form of yield-regulating measures such as targeted pruning and grape thinning. Various plant extracts help achieve higher vitality and resistance of the grape vine. Through the timing and adapting of foliage work, and the avoidance of mechanical tilting, potential infections are significantly reduced, ensuring a high quality of the grape vine. Thick foliage is also favourable to the quality of the extract. In order to maintain grape quality and ensure that only healthy parts of the grape make it to the wine cellar, the grapes are handpicked.








Location
The vineyards are all located in Stammersdorf, on the slopes of Bisamberg. The terrain, which is reflected in the wines, is made up of light to medium, somewhat sandy loess soil. In the underground we often find massive gravel, rarely also some lime. This gives the wines a filigree minerality.
Flat areas
Gernen
Wiener Gemischter Satz

DAC


Chardonnay
Weißer Burgunder
Merlot, Cabernet Sauvignon

Breiten
Grüner Veltliner
Zweigelt
Gabrissen
Wiener Gemischter Satz

DAC

Kirchberg
Grauer Burgunder
Hochfeld
Riesling
Zweigelt
Kreften
Riesling
Zweigelt
Pinot Noir
Gritschen
Zweigelt
Areas with slopes
Wiestalen
Wiener Gemischter Satz

DAC


Chardonnay
Pinot Gris

Tachlern
Wiener Gemischter Satz

DAC


St. Laurent

Jungenberg
Wiener Gemischter Satz

DAC


Riesling
Grüner Veltliner
Chardonnay
Roter Traminer
Falkenberg
Grüner Veltliner
Zweigelt
Winecellar
Good vineyards are undoubtedly the source of high-quality wines. The aim of fermentation in the cellar is to enable the grapes to develop their maximum potential. For this, it is important to minimise manual interventions in the fermentation process. And contrary to the market trend, which calls for ever-younger wines, it is important to leave the wine enough time, which is a difficult undertaking! Nevertheless, precise controls are required in order to achieve the desired result with specific measures, for example in the case of temperature-controlled fermentation.
The white wines belonging to the fruity Bisamberg line are all fermented in steel tanks. The denser white wine must destined for the reserve wines is achieved by gentlegrape pressing, often with mashing time and possible oxidation of the mash. With the exception of the Riesling, reserve wines are directly poured into 500 litre wooden barrels and then stored unsulphured with fine yeast.
Red wine is fermented as mash in the tub and then carries out the biological acid decomposition in the wooden barrel.